Church & Public Building Stonemasonry Projects
Please find below some examples of Oliver Gill's stonemasonry work on churches & public buildings.
Click images to view larger ones.
Stone Cleaning - Notting Hill, London
Interior designer's showcase house and garden in Notting Hill. For a detailed description of this project, please click on any of the images.
Rag Stone Walling Repairs - St Anne's RC Church, Whitechapel
Typical of many churches of this period, rag stones have been squeezed out by the slowly backward leaning gable and poor maintenance. For a detailed description of this project, please click on any of the images.
Stanmore Hall Main Entrance
The main entrance to the hall was built around 1850. After years of neglect and weathering, it was given a facelift with a combination of new stone to the left hand side and stone repair render, as well as some repointing and cleaning.
Roman Catholic Church of the Transfiguration Kensal Rise - Project Review
An overview of the church restoration, reviewed five years later. For a detailed description of this project, please click on any of the images.
St. Gabriel's, South Harrow
Oliver Gill constructed the stone steps, platform & flooring.
Photographs of St. Gabriel's by Geraint Davies Photography.
Stanmore Hall
Window replacement. The Stone window to the right of the Winged Creatures has replaced a walled-up shorter window. This job had interesting consequences, which I hope to detail in a Case Study. Made of Bath Stone, the Stone Lintel was a fine example of 'Heavy Lifting'.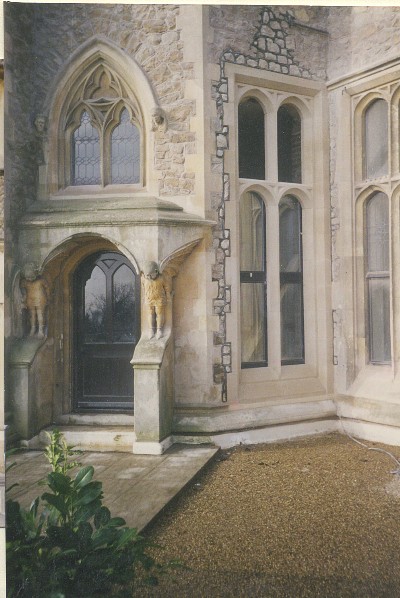 Kensal Rise RC Church
Overview of work carried out: Spire, Ferramenta, Pinnacles, String Course, Fleur de Lys, Gable Copings, Windows x 3. Numerous smaller stone repairs. Interior Spire Metalwork to strengthen spire and support Ferramenta.
Fulham RC Church
Bath Stone Copings with Caveto Moulding and Fleur de Lys Roll.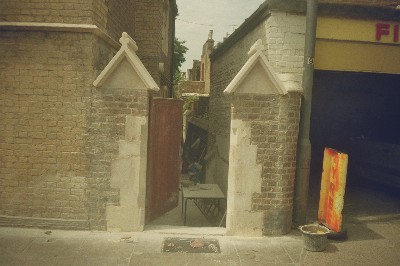 Tottenham RC Church
This Bath Stone Cross replaced one that blew off one Sunday morning. The Cross was handworked in the Workshop, taken up the scaffold by rope & wheel, and fixed to the apex of the central crossing. It has 250mm of stainless steel dowel connecting Cross to repaired Apex Stone.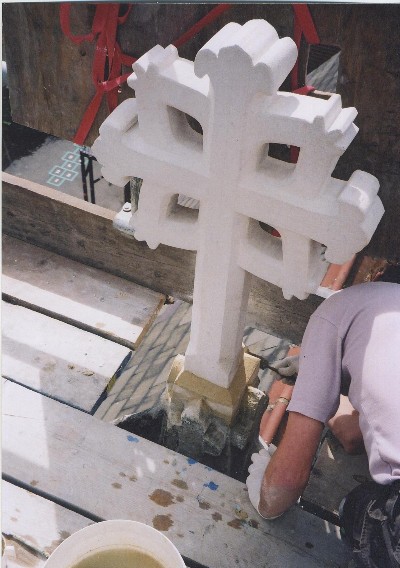 Hendon C of E Church
Work carried out: stone render repairs. Images show before and after the project was completed.
Chelsea RC Church
4 of the 'scroll' Ionic Volutes on these windows were badly decayed. The simplest solution whilst the church was being cleaned was to epoxy resin and s/steel dowel 4 blocks of Bath Stone, and then work and carve a likeness (like for like).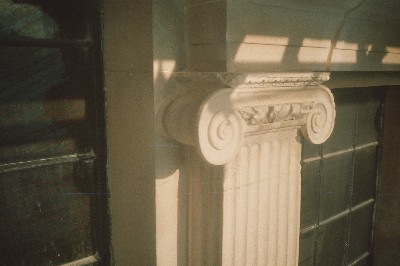 Old Dairy Pub, Crouch End, London
For Nimbus with MDJ. Oliver Gill worked these curved copings in Bath Stone. Fixed by others.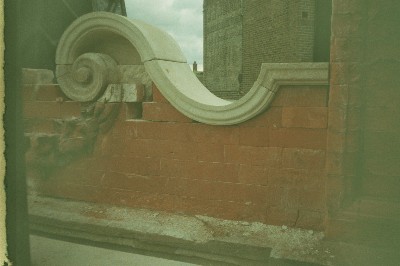 St. Marys Wimbledon Anglican Church
Gate pier rebuild. Limestone and flint. Before & after photographs of the project.
The Raw Material
The raw material is limestone or sandstone, quarried, sawn and worked from block and slab.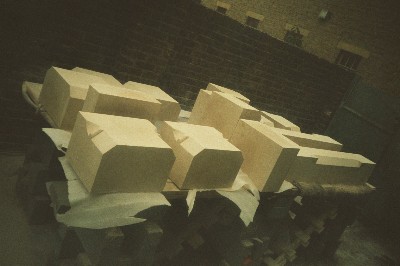 Other Church Projects
Oliver Gill (Stonemason)
107c Blenheim Crescent
,
Kensington
,
London
,
W11 2EQ
,
England
Tel:
0207 2217674
Mobile:
07826 655787
Email:
info@stonemasonryrepairs.co.uk