Roman Catholic Church of the Transfiguration Kensal Rise - Project Review
An overview of the church restoration, reviewed five years later. The church had a new roof, extensive brick and stone restoration in 2007, and the work has held up well. Part of a dedicated stone team, that included Martin Duncan Jones and Geraint Davies, the main task was to stabilize the spire that suffered aggravated existing damage in the 2006 tornado. At the same time the architect and parish priest wanted to attach a large ferramenta to the spire. The spire had the top three courses of stonework removed and then 4 x 800mm long holes were drilled vertically down into the top interior of the spire. 4 metre lengths of threaded s/steel attached topside to a steel shoe were guided down into the interior. From there a capping plate glued to inside spire top stone, and locked in place by the 4 threaded rods, themselves securing 4 x 3m long steel straps that were drilled into four opposing faces of the spire interior. The roofers raised the metalwork and fixed it into the prepared metal shoe(a 400mm long pipe). The spire was completely raked out, re-pointed and repaired, including 4 new pinnacles, stone and stone render repairs. The tower had numerous repairs, solid stone, stone render. These included new fleur de Lys apex details, raking copings, string course and window details. A new Apex Cross was carved by Belinda Edwards.
As you can see, the spire retains a slight wiggle, but at least it's still there, and looking up Chamberlain Road that view all the better for it.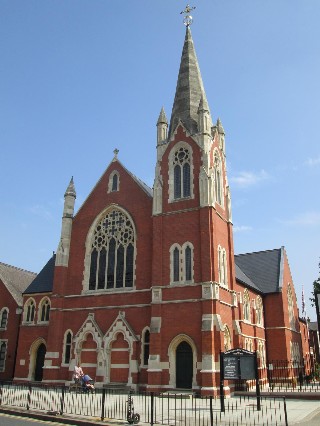 Kensal Rise RC Church Project Photos from 2007:
Oliver Gill (Stonemason)
107c Blenheim Crescent
,
Kensington
,
London
,
W11 2EQ
,
England
Tel:
0207 2217674
Mobile:
07826 655787
Email:
info@stonemasonryrepairs.co.uk