Unusual York Stone Steps Rebuild - North Islington, London
These steps were close to collapse, but have responded well to complete replacement. Job entailed 1450mm lengths of York stone with three sided bullnose, a central gulley and party wall plinth - all in sawn York stone. The top platform comprises uniform b/n tread and a generous central stone with moulded stone each side. The lower landing is made up of 5No stones, one containing a site fabricated coal hole. The metalwork was repaired and reinstated in a more harmonious, and to its original layout. The vault under the steps was also York paved. Images show before and after rebuild, as well as one year after rebuild.
Before Rebuild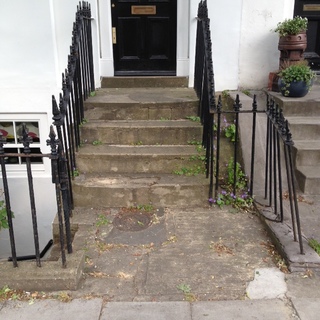 After Rebuild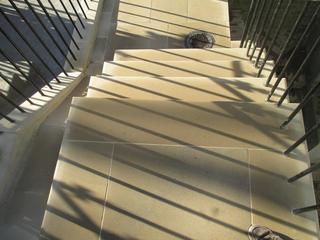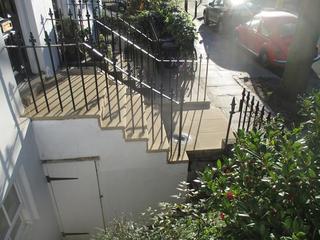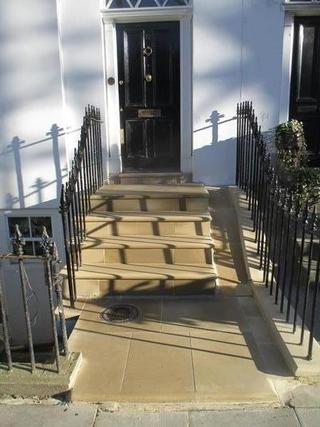 One Year After Rebuild
Here are the steps after one year, with minimal cleaning. I always recommend a good scrub every six months with a little patio cleaner and a stiff broom, or a jet wash that avoids blasting into the filled joints.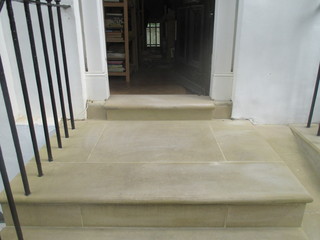 Oliver Gill (Stonemason)
107c Blenheim Crescent
,
Kensington
,
London
,
W11 2EQ
,
England
Tel:
0207 2217674
Mobile:
07826 655787
Email:
info@stonemasonryrepairs.co.uk
Back To Front Steps, Plinth/Railings & Hard Landscaping Projects Main Page