Portland Staircase Rescue - Belsize Park, London
Portland Staircase Before Repairs
Three shots showing the appalling damage probably carried out during the Second World War to create a partition. All the mitre returns on every tread have been crudely chopped off. The staircase is of a solid Portland stone construction where each tread/riser is a solid stone attached to the one below, and clipped together making a semi-cantilevered structure.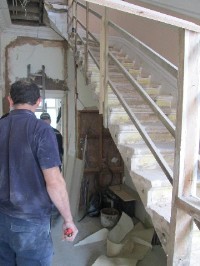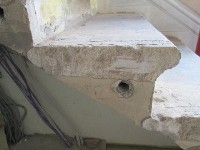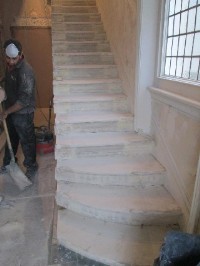 Portland Staircase Repairs Solution
Instead of trying to either replace the staircase or bolt some treads over the top, I engaged Geraint Davies of London Stonemasonry to make 15 new mitred return Portland stones with bull nose/cavetto/fillet moulding, as well as the curtail or curving bottom step. Each newly minted stone unit was then slot-attached to cleaned up broken end with epoxy resin and stainless steel plate.
The entire staircase also required the removal of six layers of paint going back about hundred years. This was achieved by specialist paint strippers and angle grinder spinning. When all the cleaning and major repairs were complete, Venetian craftpeople applied a specialist stone effect render to acute areas of decay.
A replica cast iron ballustrade has been fabricated by Whitechapel Foundry.
Portland Staircase After Repairs
None of this attention to detail would have been possible without the determination of the client to return the house to good order, ably assisted by main contractor Points of View Ltd.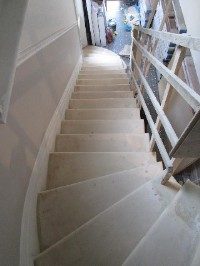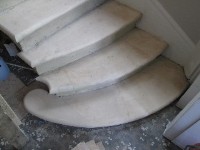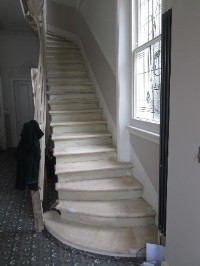 Oliver Gill (Stonemason)
107c Blenheim Crescent
,
Kensington
,
London
,
W11 2EQ
,
England
Tel:
0207 2217674
Mobile:
07826 655787
Email:
info@stonemasonryrepairs.co.uk